Frame: Iron, powder coating
Weave: Water Hyacinth – Fish Bone weave – Natural
Liner: 100% cotton
lined or unlined (contact us)
Vietnam handmade storage box with bins iron frame.
Set of three s/3 and Natural color
Product Introduction
Set of 3 chests & crates, made from water hyacinth (water hyacinth), with herringbone knitting style will help the space inside the chest become more discreet, better preserved, accompanied by 2 small baskets for storing items Sundries in the house, uses and usage instructions will be provided below.
Contact us for the best price.
Feature:
Store and preserve household items, helping to keep the house neat and clean.
The design is neat and classic, making the house more luxurious and mysterious.
Especially extremely environmentally friendly, contributing to the protection of our living environment.
User manual
Store in a dry place, should be exposed to the sun after 1 time of use.
The product should be used indoors, away from rain, moisture.
Avoid storing items that are too heavy, likely to rust, such as iron and steel.
Products can be used for a very long time if we know how to store them.
et cetera.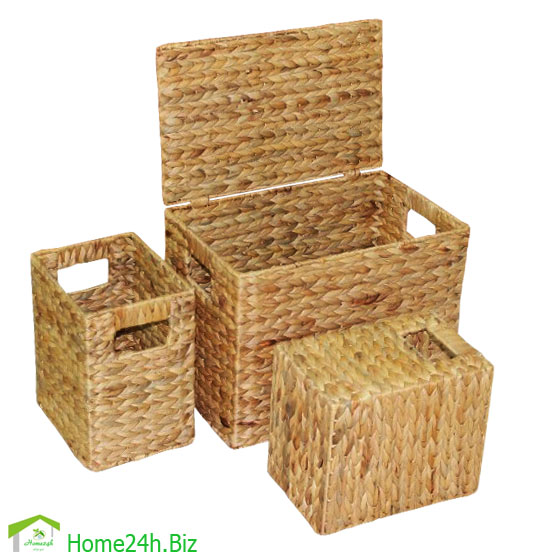 Why Should You Place an Order with us?
High quality, reasonable price and prompt delivery.
Mixed orders, small orders or combined orders with other factories is accepted.
More orders, cheaper price.
We have the independent export.
Various designs and various types, sophistication and customization.
Colors, sizes, styles and logos of customers are accepted.
Simple styles, tidy and comfortable.
100% handmade, full range, fashionable, durable and high practical value.
We can make your samples easy and fast with the short time 7-10 days.
Packaging and labeling is suitable with export standard or as customer special requirement.
etc.