Water Hyacinth basket set, s/5 square bottom & round top, Rice nut weave and natural color
1. Product Description:
Size of full set  – L X W X H (cm):
Storage basket  X-large size: 47*47*35/40 cm     /    Storage basket large size: 43*43*31/36 cm
Storage basket  X-medium size: 39*39*27/32 cm   /      Storage basket medium size: 35*35*23/28 cm
Storage basket small size: 31*31*19/24 cm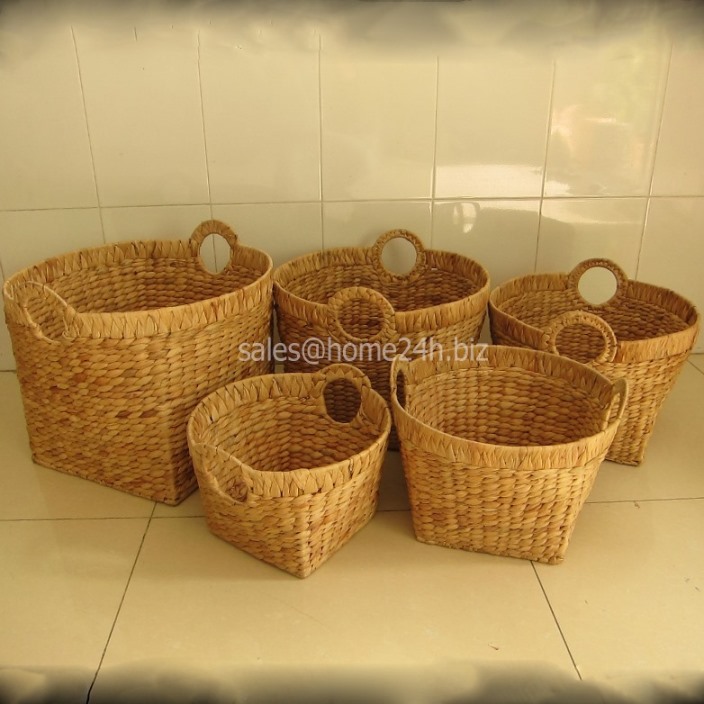 1. Product Feature: 
Water hyacinth basket is woven from dried water hyacinth plants, which is a sustainable and completely eco-friendly material. Water hyacinth has the characteristics of fast reproduction, so it is a cheap source of raw materials, not afraid of scarcity. After drying the water hyacinth, the craftsmen will take the hyacinth yarn to knit the finished product.
Water hyacinth basket is woven entirely from natural hyacinth fibers, not combined with artificial materials, so it has a rustic and simple style.
The basket is woven in the shape of rice grains, which is extremely convenient and easy to choose. In addition, the basket has a sturdy handle, easy to hold and move.
Water hyacinth baskets are manufactured in a variety of designs and sizes, so you can take advantage of them for many different uses. You can use a basket of water hyacinth to store clothes, both to help keep the house tidy and to have a faint scent of water hyacinth in space and clothes. At the same time, you can also use the basket as a fashion accessory for going out, going to a party, walking on the street, etc. Grandmothers and mothers can use hyacinth baskets to go to the market, store food instead of using them. using plastic bags, causing environmental pollution. From there, we just need to choose the type of hyacinth basket suitable for many uses, the product will perform its function properly.
3. Why Should You Place an Order?
High quality, reasonable price and prompt delivery.
Mixed orders, small orders or combined orders with other factories is accepted.
More orders, cheaper price.
We have the independent export right.
Various designs and various types, sophistication and customization.
Colors, sizes, styles and logos of customers are accepted.
Simple styles, tidy and comfortable.
100% handmade weaving, full range, fashionable, durable and high practical value.
We can make your samples easy and fast with the short time 7-10 days.
Packaging and labeling is suitable with export standard or as customer special requirement.