Water Hyacinth Oval Bread Basket, Havana weave, iron frame, natural color
Size product ( L*W*H ): 
Storage basket large size: 45*33*9 cm   /   Storage basket medium size: 40*28*9 cm   /   Storage basket small size: 35*23*9 cm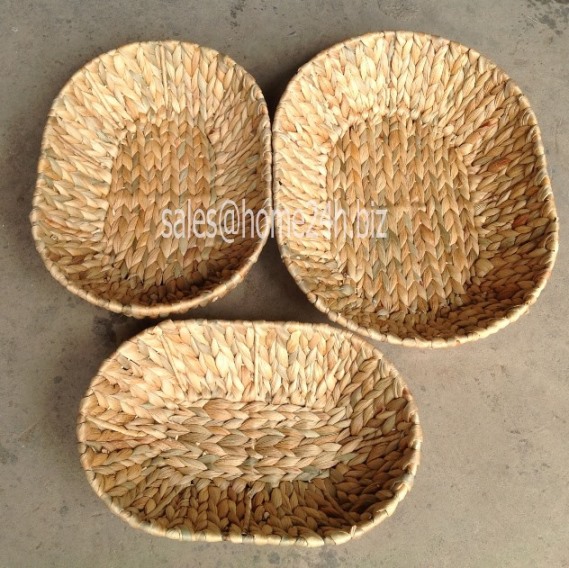 1. Product Feature: 
Storage basket:
The basket is 100% handmade from natural water hyacinth and eco-friendly materials
Domestic origin from Vietnamese farmers nationwide
Hand-woven by weavers from craft villages
Non-toxic and sustainably produced.
Can be customized based on customer requirements.
Storage baskets are always the perfect choice for your home. These durable baskets can hold toys, clothes, books, kitchen utensils, personal belongings or anything else that needs to be carried in just the right size, not too heavy, not sharp and Objects are prone to rust because they can cause the basket to rot, quickly degrading. These Hand Woven Baskets minimize dust accumulation and are durable for long term use.
3. Why Should You Place an Order?
High quality, reasonable price and prompt delivery.
Mixed orders, small orders or combined orders with other factories is accepted.
More orders, cheaper price.
We have the independent export right.
Various designs and various types, sophistication and customization.
Colors, sizes, styles and logos of customers are accepted.
Simple styles, tidy and comfortable.
100% handmade weaving, full range, fashionable, durable and high practical value.
We can make your samples easy and fast with the short time 7-10 days.
Packaging and labeling is suitable with export standard or as customer special requirement.