Storage basket water hyacinth seagrass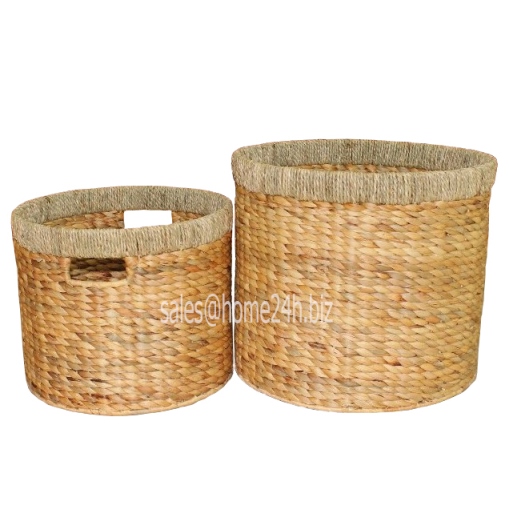 Product Feature: 
The basket is made from processed 100% natural water hyacinth fiber, so it is durable and environmentally friendly.
With a unique knitting pattern – knitted from threads of water hyacinth tied together to form a grain of rice, handcrafted in rustic tones, it also has a unique design. contribute to beautify the space around you.
Above all, the basket is designed with a convenient handle to use, the round product is suitable for storing things and decorating the house.
Usage:
Baskets are used to store documents, clothes, bedding, children's toys or personal belongings. In addition, this product is very suitable for art connoisseurs, who like to refresh their home, can be used to store their favorite flowers that are both beautiful and have a rustic and simple taste of the countryside attached to them. associated with the flavor grown in each product. Depending on the intended use, it can help you organize small household items more easily and simply without taking up too much time and space in your home.
Why Should You Place an Order with us?
High quality, reasonable price and prompt delivery.
Mixed orders, small orders or combined orders with other factories is accepted.
More orders, cheaper price.
We have the independent export.
Various designs and various types, sophistication and customization.
Colors, sizes, styles and logos of customers are accepted.
Simple styles, tidy and comfortable.
100% handmade, full range, fashionable, durable and high practical value.
We can make your samples easy and fast with the short time 7-10 days.
Packaging and labeling is suitable with export standard or as customer special requirement.
etc.