Size of full set  – L X W X H (cm):
 Storage basket Large size: 30*22*8 cm     /    Storage basket medium size: 26*18*8 cm  /   Storage basket small size: 22*15*8 cm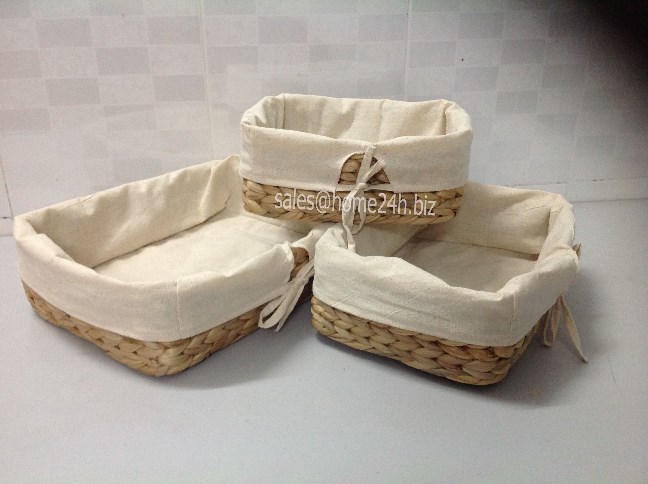 1. Product Feature: 
Water hyacinth is a natural color, without any dye treatment, so the color may vary depending on the top (light color) or base (dark color) of the hyacinth. – The product has the smell of natural water hyacinth (meadow smell).
The decorative box is interwoven with scale and technology, adjusting color over time. A water hyacinth storage box can provide you with a classic pastime that holds lasting value.
.2. Usage:
Decorative hyacinth basket helps you organize and store children's toys and tools more neatly. Perfect for the office, bedroom, bathroom, pantry, desk and craft area. Easy to move, easy to store if not in use. With quality natural green fiber material, simple motifs help create accents for your home.
Decorative boxes can also use protective boxes and hold various small items, adding a rustic beauty to the place where the box is placed.
3. Why Should You Place an Order?
High quality, reasonable price and prompt delivery.
Mixed orders, small orders or combined orders with other factories is accepted.
More orders, cheaper price.
We have the independent export right.
Various designs and various types, sophistication and customization.
Colors, sizes, styles and logos of customers are accepted.
Simple styles, tidy and comfortable.
100% handmade weaving, full range, fashionable, durable and high practical value.
We can make your samples easy and fast with the short time 7-10 days.
Packaging and labeling is suitable with export standard or as customer special requirement.