Water Hyacinth Wicker Basket with Ears
Frame: metal frame (iron)
Weaving: Fish bone / Havana (View more)
Origin: Made in Vietnam
Shape: Rectangular with ears
Size (L * W *H): 35*22*23 cm / 25*17*18 cm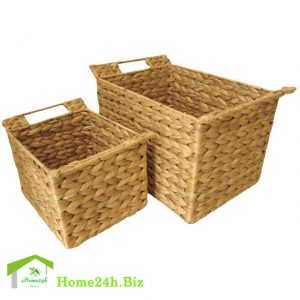 Product Feature: 
The basket is created by dried hyacinth fibers, all made from 100% natural, environmentally friendly water hyacinth, without the use of chemicals, extremely safe to use. Easily degradable in the environment, so you don't have to worry about the problem after not using it anymore.
There is an extremely sturdy fixed iron frame that can be used for a period of time.
With herringbone knit, there is a fixed iron handle inside and outside covered with a layer of water hyacinth to make the handle more solid.
Usage:
The baskets are currently responding quite well to the needs or desires of consumers. It is often used to store sundries in the house, small objects such as school supplies for children, books, bottles,… The special thing that makes this basket different from the rest is that its size seems to be larger than the rest of the baskets, so it can hold more items. In addition to the above uses, it can also be used for home decoration, very suitable for art lovers and collectors to decorate their homes.
Why Should You Place an Order with us?
High quality, reasonable price and prompt delivery.
Mixed orders, small orders or combined orders with other factories is accepted.
More orders, cheaper price.
We have the independent export.
Various designs and various types, sophistication and customization.
Colors, sizes, styles and logos of customers are accepted.
Simple styles, tidy and comfortable.
100% handmade, full range, fashionable, durable and high practical value.
We can make your samples easy and fast with the short time 7-10 days.
Packaging and labeling is suitable with export standard or as customer special requirement.
etc.
EMAIL: Sales@home24h.biz
WeChat / WhatsApp/ Zalo : 84906.631.681
Skype: Home24h.biz
Call us: 84 906.631.681 (Office) / 84 283 6368 625 (warehouse)