Being a pet lover like a cat, dog, you know how essential it is to provide your best friend with a cozy and secure space. That's where the Water Hyacinth Pet House, Cat House comes into play – a restful paradise crafted for your pet, your cat's. Follow Home24h, We will introduce you to the Water Hyacinth Pet House, Cat House.
Why Choose the Water Hyacinth Pet House, Cat House?
Made specifically for pets, for cats and crafted from water hyacinth, a durable and environmentally-friendly material, the Water Hyacinth Pet House, Cat House brings an array of benefits for your pets.
Read more: The Story of Vietnamese Water Hyacinth Handicrafts
Nature's Calm Embrace
Imagine your pet surrounded by nature's beauty. The Water Hyacinth Pet House, Cat House with its natural colors and woven texture, brings this soothing atmosphere indoors. It's the perfect spot for your pet to relax and recharge.
Custom Comfort
Just like us, pets need their own special place. The Water Hyacinth Pet House, Cat House is designed to cater to their needs. Whether it's napping, lounging, or finding a quiet moment, your pet will enjoy their own cozy retreat.
Good for the Environment
By choosing the Water Hyacinth Pet House, Cat House, you're not only giving your pet comfort – you're making an eco-friendly choice. Water hyacinth grows quickly, making it a sustainable material. This decision helps reduce your impact on the environment.
Easy to Maintain and Built to Last
Pet accessories should be practical. The Water Hyacinth Pet House, Cat House is not only visually appealing but also easy to clean. A quick wipe keeps it fresh, and its durability ensures it will be your pet's go-to spot for a long time.
A Special Gift for Your Pet
Your pet's happiness matters. The Water Hyacinth Pet House, Cat House is a heartfelt way to show you care. Its natural charm, eco-friendliness, and comfort make it a wonderful gift for your friend.
How to weave Cat House, Pet House Water Hyacinth?

 
Today, the demand for pet products is continuously rising, leading to the constant development of diverse designs for pet houses made from Water Hyacinth. These houses not only meet aesthetic demands but also provide comfort and a sense of security for your pets. 
Each house is crafted through a meticulous and intricate process.
Step1: Cover glue for all metal frames. Glue cover metal frames will help them don't rust for a long time. And will help the pet house be stronger and older than.
Step 2: Water Hyacinth cover again. Water Hyacinth covers metal frame after cover by glue, it will help pet houses look better and stronger.
Step 3: Weaving: We will start weaving from bottom to top, body, and ears will be finished latest. Vietnamese are very diligent and hard working, and their knitting skills are very good.
Home24h takes pride in being a manufacturer that produces top-quality products made from natural materials such as Water Hyacinth, Seagrass,…. If you're interested in our pet house, cat house, click here.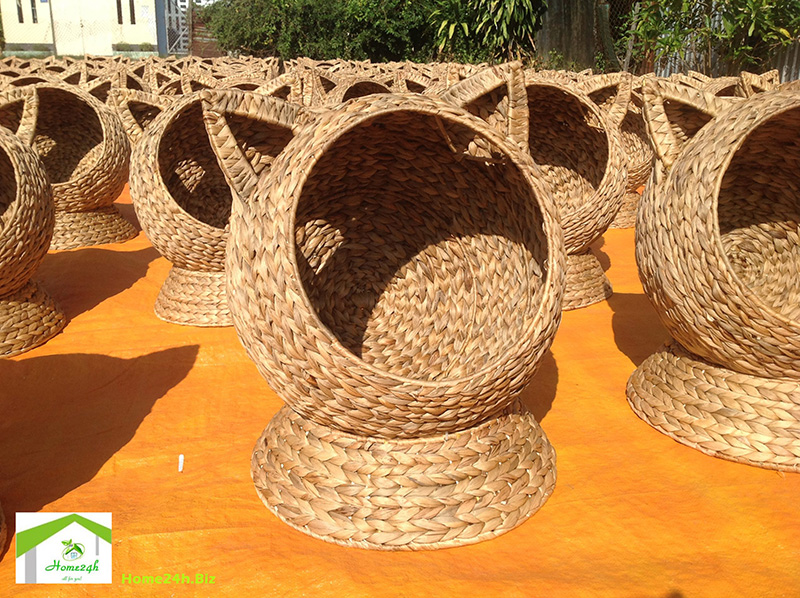 Learn more about product: Pet Houses Made Of Water Hyacinth And Sedge
Home24h hopes that through this post, you can learn more about Water Hyacinth Pet House, Cat house.
Best wishes for you.
——————————————————
Transaction office – Home24h Co., Ltd
Telephone:+8428 3636 8625
Website: https://www.home24h.biz
Email: Sales@home24h.biz
Zalo/ Wechat/ WhatsApp:+84 906 631 681
Skype: Home24h.biz
Facebook: https://www.facebook.com/home24h.biz
Tik Tok: Home24h Crafts