Water Hyacinth Wicker Baskets
Frame: metal frame (iron)
Weaving: Fish bone / Havana (View more)
Origin: Made in Vietnam
Shape: Rectangular
Size (L * W *H): 43.5*28.5*9.5cm; 38.5*23.5*8.0cm; 33.5*18*7.0cm
Water hyacinth basket without liner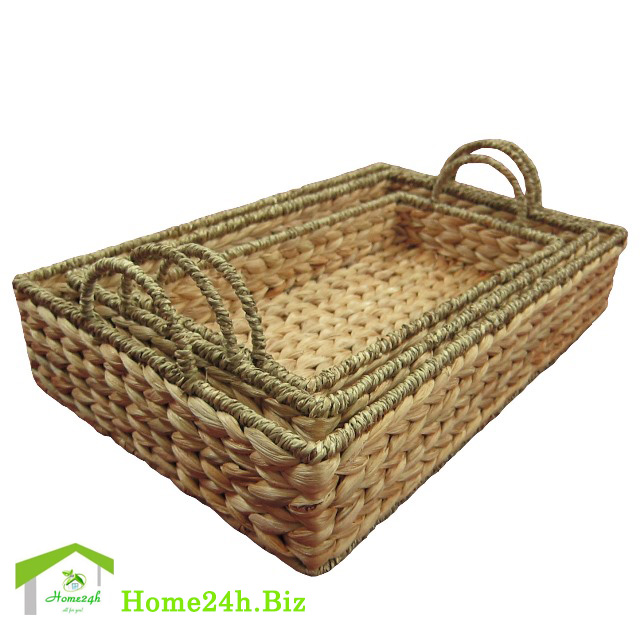 Water hyacinth basket with linẻ
Product Feature: 
The basket is made entirely from 100% natural water hyacinth that has been processed such as cutting, drying and the hard work of craftsmen, so it is extremely environmentally friendly.
With the fish bone hand-knit pattern and the color of the dried water hyacinth (yellow), the product has contributed to beautify your space.
Usage:
The basket is designed with a handle so it is extremely convenient to hold, with a natural water hyacinth basket with fabric lining and no lining inside to help us easily divide items. We can store frequently used items for unlined baskets, conversely we can use lined baskets to store things we rarely use because we can clean the basket by removing the cloth. wash and continue to use them. It is both common and beautiful and decorative for your home.
Why Should You Place an Order with us?
High quality, reasonable price and prompt delivery.
Mixed orders, small orders or combined orders with other factories is accepted.
More orders, cheaper price.
We have the independent export.
Various designs and various types, sophistication and customization.
Colors, sizes, styles and logos of customers are accepted.
Simple styles, tidy and comfortable.
100% handmade, full range, fashionable, durable and high practical value.
We can make your samples easy and fast with the short time 7-10 days.
Packaging and labeling is suitable with export standard or as customer special requirement.
etc.
EMAIL: Sales@home24h.biz
WeChat / WhatsApp/ Zalo : 84906.631.681
Skype: Home24h.biz
Call us: 84 906.631.681 (Office) / 84 283 6368 625 (warehouse)